Shift 2: полный список трасс, машин и ост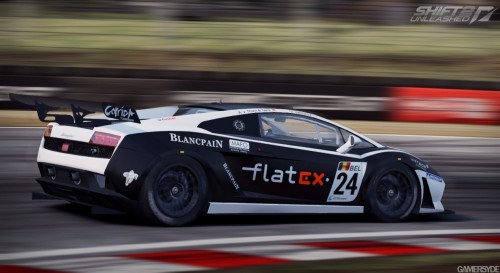 Релиз Shift 2: Unleashed уже практически не за горами и по игре появляется все больше подробностей. Electronic Arts опубликовали полный список трасс, которые будут приличествовать в игре:
Alpental
Ambush Canyon
Autopolis International Racing Course Lakeside
Autopolis International Racing Course GP
Brands Hatch Indy
Brands Hatch GP
Brno Circuit
Circuit Dijon-Prenois Short
Circuit Dijon-Prenois
Circuit Zolder
Circuit de Catalunya Club
Circuit de Catalunya National
Circuit de Catalunya GP
Circuit de Spa Francorchamps GP
Dakota Club
Dakota National
Dakota GP
Donington Park National
Donington GP National
Dubai Autodrome Club
Dubai Autodrome National
Dubai Autodrome International
Dubai Autodrome GP
Ebisu Circuit Touge Course Challenge
Ebisu Circuit South Course
Ebisu Circuit West Course
Enna Pergusa
Glendale Club
Glendale West
Glendale East
Hazyview Oval
Hazyview Eight
Hockenheimring Short
Hockenheimring National
Hockenheimring GP
London Club Drive
London River
London Royal Mile
London Embankment Loop
London Whitehall Drive
Mazda Raceway Laguna Seca
Miami Bayfront Park Loop
Miami Bicentennial Park Route
Miami Biscayne Boulevard
Miami Bayside Run
Miyatomi
Monza Jr
Monza GP
Motorsport Arena Oschersleben B Course
Motorsport Arena Oschersleben GP
Mount Panorama — Bathurst
Nordschleife Nurburg
Nordschleife Karussell
Nordschleife Aremberg
Nordschleife
Nurburgring Mullenbach
Nurburgring Sprint Short
Nurburgring Sprint
Nurburgring GP
Riviera Monument Loop
Riviera Port Boucle
Riviera Casino Riviera
Riviera Monte Grande
Road America
Rustle Creek
Shanghai Yan'an Road Circuit
Shanghai Nanjing Road Dash
Shanghai Bund GP
Silverstone National
Silverstone International (2009)
Silverstone Bridge Grand Prix
Silverstone GP
Suzuka Circuit East Course
Suzuka Circuit West Course
Suzuka Circuit GP
Toyota Speedway at Irwindale Oval
Tokyo Dockside
Tokyo Club
Tokyo Circuit
Tokyo Westbound Expressway
Willow Springs International Motorsports Park Horse Thief Mile
Willow Springs International Motorsports Park GP
Ранее стало известно несколько треков, которые будут в саундтреке:
30 Seconds to Mars — Night of the Hunter
Anberlin — We Owe This to Ourselves
Biffy Clyro — Mountains
The Bravery — Ours
Escape the Fate — Issues
Hollywood Undead — Levitate
Jimmy Eat World — Action Needs an Audience
Rise Against — Help is on the Way
Stone Temple Pilots — Take a Load Off
Switchfoot — The Sound (John M. Perkins Blues)
Естественно это не полный саундтрек, над остальными композициями трудятся Ramin Djawadi, Troels Folmann, Stephen Baysted, Mick Gordon, а так же Heavy Melody Music.
В тоже время Shift 2 может похвастаться не малым количеством гоночных и не очень авто, список ниже:
Acura NSX
Alfa Romeo 8C Competizione
Aston Martin DB9 Coupe
Aston Martin V8 Vantage N400
Aston Martin Racing DBR9 GT1
Aston Martin Racing DBRS9 GT3
Audi R8 Coupe 4.2 FSI Quattro
Audi R8 LMS
Audi RS 4
Audi S3
Audi S4
Audi TT Coupe 3.2 Quattro
Bentley Continental Supersports Coupe
BMW 135i Coupe
BMW Alpina B6 GT3
BMW M1 Procar
BMW M3 E30 Sport Evolution
BMW M3 E36
BMW M3 E46
BMW M3 E92
BMW M6 Coupe
BMW Z4 Coupe
BMW Z4 sDrive35is
Bugatti Veyron 16.4
Caterham Superlight R500
Chevrolet Camaro SS
Chevrolet Cobalt SS
Chevrolet Corvette C6.R GT1
Chevrolet Corvette Stingray
Chevrolet Corvette Z06R GT3
Dodge Challenger Concept
Dodge Viper SRT10
Dodge Challenger R/T
Dodge Charger R/T
Ford Escort RS Cosworth
Ford Focus RS
Ford Focus ST
Ford GT
Ford Shelby GT500
Matech Ford GT GT1
Matech Ford GT GT3
Gumpert Apollo
Honda Civic Si
Honda S2000 CR
Infiniti G35 (V35)
Jaguar XKR
Koenigsegg CCX
Lamborghini Gallardo LP560 GT3
Lamborghini Gallardo LP560-4
Lamborghini Murcielago R-SV GT1
Lamorghini Reventon
Lancia Delta HF Integrale Evoluzione
Lexus IS F
Lexus LFA
Lotus Elise 111R
Maserati GranTurismo S
Maserati MC12 GT1
Mazda MX-5
Mazda RX-7 (FC3S)
Mazda RX-7 (FD3S)
Mazda RX-8
McLaren F1
Mercedes-Benz 190E 2.5-16 Evolution 2
Mercedes-Benz SL 65 AMG
Mercedes-Benz SLS AMG
Mercedes-Benz SLR McLaren 722 Edition
Mercedes-Benz SLR McLaren Stirling Moss
Mitsubishi Lancer EVOLUTION IX MR-Edition
Mitsubishi Lancer EVOLUTION X
Nissan 200SX (S14)
Nissan 240SX (S13)
Nissan 350Z (Z33)
Nissan 370Z (Z34)
Nissan GT-R (R35)
Nissan GT-R (R35) Need For Speed Edition
Nissan GT-R SpecV (R35)
Nissan Skyline GT-R (R32)
Nissan Skyline GT-R (R34)
Pagani Huayra
Pagani Zonda F
Pagani Zonda R
Porsche 911 GT2
Porsche 911 GT3 Cup R
Porsche 911 GT3 RS
Porsche 911 GT3 RSR
Porsche 918 Spyder Concept Study
Porsche Carrera GT
Porsche Cayman S
Radical SR3 RS
Renault SPORT MEGANE R.S.
Scion tC
SEAT Leon CUPRA
Shelby Cobra 427
Shelby GT500
Subaru Impreza WRX STI
Toyota Corolla GTS (AE86)
Toyota Supra
Volkswagen Golf GTI
Volkswagen Golf Mk1 GTI
Volkswagen Scirocco
Релиз Shift 2: Unleashed состоится 29 марта 2011.